The "DREAMSTONE" is an elegant, thought-provoking, physical piece of history that is symbolic of the dream of Dr. Martin Luther King Jr. Each stone comes from the original cobblestones and granite were embedded in the approach ways leading up to the Lincoln Monument and Statute of Abraham Lincoln. Many people and events have stood on these rocks, but one of the most famous events was the great March On Washington on August 23, 1968 where many civil rights leaders gathered and Dr. Martin Luther King stood and gave his "I have A Dream" speech. The March on Washington for Jobs and Freedom that took place in Washington, D.C., was attended by some 250,000 people, and was the largest demonstration ever seen in the nation's capital up onto that time, and one of the first to have extensive television coverage.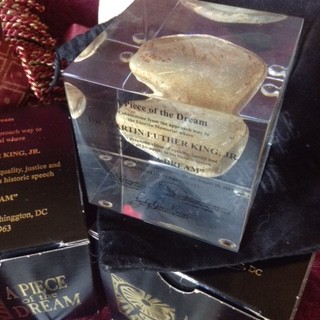 Each stone is irregular in shape with individual sizes varying from 1.5 to 3 inches. Each unique stone is contained within a 4 X 4 inch square Lucite cube.  Each cube has an embedded piece of acetate printed with signatures of authenticity and a brief narrative of the historical symbolism commemorating and celebrating Dr. King's life, the "I Have A Dream Speech," and the greatest demonstration for freedom and justice in the history of our nation.  The authentication process consisted of a systematic documentation from the salvaging, extraction, and removal of the original cobblestones during a restoration project at the Lincoln Memorial in the late 1990s. Documentation consisted of, but not limited to, the following:
Physical Observation
Photo documentation
Signed Certificate of Authenticity
This was conducted by John W. Levermore, P.E. and John Hagan, C.O.R National Park Service who verified that the cobblestone was extracted from the paving/panels of the Lincoln Memorial approach way.
Each "DREAMSTONE" has been hand crafted and was given to each recipient who received The King Family Legacy Clergy Stole and plaque for their work toward Racial Healing and Reconciliation.
The "DREAMSTONE" was presented to Pastor Mike Berry of Annapolis, Maryland by a local contractor in Annapolis a month before United Cry DC 16 on April 9, 2016. This contractor took great care of these stones, chipped them by hand from the concrete bedding they were encased in and then developed them into a unique handmade gift.