In response to an invitation to join the organizers of the United Cry DC16 on April 9, 2016, to pray for repentance and healing for racial division within our nation.  Bishop Harry Jackson, founder of The Reconciled Church Initiative, was asked to host the segement and then met with members of The King Family Legacy Foundation about the content of the racial healing portion of the prayer event.  In addition to the prayers of repentance, forgiveness and declaration, Bishop Jackson felt it was important to honor individuals and ministries who have been advancing "The Dream" of Dr. Martin Luther King Jr. and have been examples of racial healing and reconciliation.
We began to pray about developing a lasting symbol for leaders in racial reconciliation, but also a symbol of unity among the generations in a "passing of the mantle" of leadership to the Timothy's and Ruth's of the nations as we as a people cry out to God for deliverance and Jubilee.
Jubilee occurs throughout the Bible, and April 9, 2016 has become a pivotal "Jubilee Awakening" season in the prayer movement of the 21st century. Lewis and Rachel Hogan, the co-founders of the United Cry DC16 national prayer event agreed that a prayer mantle would be fitting. Thus, a Jubilee 2016 Prayer Stole was created.
Bishop Craig Coates, Founder of Modern Priest Wear was sought out to design the Prayer Stole. Members of The King Family Legacy Foundation were consulted about the design.  Here is a description of the Symbolic Imagery of the Defenders of the Dream Prayer Mantle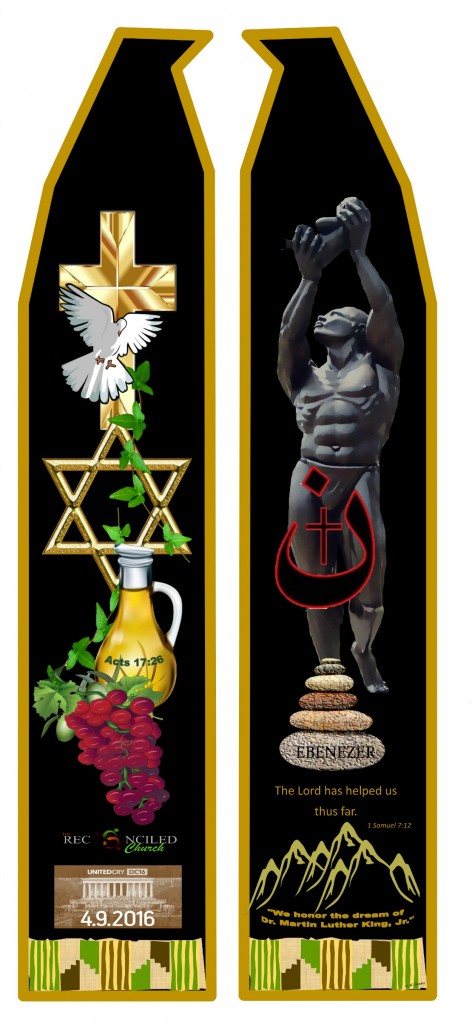 Symbol Definitions:
The Cross of Jesus Christ
The Dove Symbolic of The Holy Spirit
The Star of David
The Cruz of Oil Symbolic of Healing the Racial Divide
Burgundy Grapes Symbolic of Holy Communion, Blood of Christ, The Vine Christ and The Christian Branches, Fruit of the Spirit
Kente Cloth and Kunta Kinta "Behold" Monument by Patrick Morelli a symbolic tribute to Dr. Martin Luther King, Jr. and to the ancient African ritual of lifting a newborn child to the heavens and reciting the words "Behold the only thing greater than yourself." (see http://www.nps.gov/malu/planyourvisit/behold_monument.htm
The Nasara symbol representing hope for persecuted Christians. Members of the Alex Haley family of "Roots" converted from the Muslim faith to Christianity.
The "Behold" statue is inspired by "Roots" and The Legacy of Dr. Martin Luther King, Jr.
Acts 17:26 – of one blood God created all people… symbolizing the truth of one human race
1 Samuel 7:12 symbolizing the King Family Legacy Vision
7 Mountains symbolizing the modern evangelistic and discipleship movement
Logos for Reconciled Church, United Cry and King Family Legacy Foundation