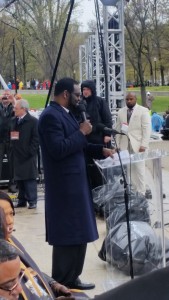 We are gathered here this afternoon to reflect on the problem of race and racism in America. Nearly 53 Years Ago Dr. Martin Luther King stood on this exact spot. Just a few feet away from us, he preached his famous "I Have A Dream" speech. If time would allow us to recite the entire speech, we would realize that we have journeyed quite a few miles down the road of freedom from where King's journey ended.  Nonetheless, we have not realized his goal and his dream yet.
During the last two years, we have seen violence and animosity erupt in many unexpected places. America seems to be facing the deepest divisions of this century. Our nation's only hope is for Christians to recognize their citizenship in the kingdom of God and to unify in Christ. We must acknowledge our former schisms, but also, we must commit to healing "The Wounded Body of Christ".
This segment of the day is a time to remember and commemorate; a time to repent and reset our course; and, finally, to cry out to God for an anointing and a grace from heaven to finish what Dr. King began.
We have come together today to express our solidarity and faith in God's promise to heal our land. In fact, several of the nation's largest denominations, along with leaders of many of the nation's super mega churches, have joined together to make an appeal to heaven for mercy of God upon the entire nation.
On that swelteringly hot day in August 1963, King lifted up his voice and began to speak. Let me recount just a few of his words:
"In a sense, we've come to our nation's Capital to cash a check. When the architects of our republic wrote the magnificent words of the Constitution and the Declaration of Independence, they were signing a promissory note to which every American was to fall heir. This note was a promise that all men, yes, black men as well as white men, would be guaranteed the unalienable rights of life, liberty, and the pursuit of happiness. It is obvious today that America has defaulted on this promissory note insofar as her citizens of color are concerned. Instead of honoring this sacred obligation, America has given the Negro people a bad check; a check which has come back marked "insufficient funds."
But we refuse to believe that the bank of justice is bankrupt. We refuse to believe that there are insufficient funds in the great vaults of opportunity of this nation. So we have come to cash this check- a check that will give us upon demand the riches of freedom and the security of justice."
As Dr. King finished his speech that day he shared an amazing prophetic insight:
"I say to you today, my friends, so even though we face the difficulties of today and tomorrow, I still have a dream. It is a dream deeply rooted in the American dream.  I have a dream that one day this nation will rise up and live out the true meaning of its creed: "We hold these truths to be self-evident; that all men are created equal."
 King finished the dream segment of his speech by quoting an obscure passage from the book of Isaiah.
"I have a dream that one day every valley shall be exalted, every hill and mountain shall be made low, the rough places will be made plain, and the crooked places will be made straight, and the glory of the Lord shall be revealed, and all flesh shall see it together."
Eleven years ago I visited the Rosa Parks Museum in Montgomery, Alabama. As I prayed about the civil rights legacy of that city, I realized that Dr. Martin Luther King, Jr. led a movement that should have developed into a national revival and an awakening!
The movement was supposed to begin with justice (equality, opportunity, and jobs) then it was supposed to also emphasize righteousness (Christian living based on love and mercy).  Psalm 89:14 says, Righteousness and justice are the foundation of His throne.
I realized that night that Dr. King had three mantles.
The first was a community organizer.
The second was the mantle of political influence both national and international.
The third mantle was a mantle of spiritual awakening and spiritual impartation.
The first two mantles were sought after. The third mantle needs to be sought after. The grace that enabled key workers to endure major persecution and still represent Christ was at the center of Dr. King's message and service.
The King Family Legacy Foundation and the Reconciled Church movement want to encourage leaders and church members to lead the way. We want to be a catalyst for helping the broader Christian community to come together, to work together, and to fulfill God's dream for America.  This has been our heartbeat – to exhort and encourage faithful leaders who are called to take up Dr. King's Mantle.
Therefore go forth in HIS Name!
Proclaim to everyone that will receive you, that Jesus Christ is Lord!
He is Lord of the nations.
He is Lord of the United States.
He is Lord of every tribe, every people group, and every culture.
Jesus is Lord of all and by His power we can love one another and the world he died for!
Wear these mantles in His great name and "the Lord bless you and keep you; the Lord make his face to shine upon you and be gracious to you; the Lord turn his face toward you and give you peace." Num. 6:24-26
#          #          #
The Reconciled Church Initiative was created to heal racial division in America by encouraging unified Church leadership to take strategic steps that address the root problems of America's ghettos and suburban communities. This collaborative approach utilizes the seven bridges of reconciliation to restore purpose, justice and opportunity to urban areas. The Multi-denominational engagement will lead to community transformation and spiritual renewal while expanding the Kingdom.